Sostenibilità a tutto tondo, anche dal punto di vista energetico, per la Farmacia Pozzi! Abbiamo, infatti, ricevuto il certificato con i marchi EKOenergy e Be ForGreen Be Sustainable che attesta l'impiego, da parte della Farmacia, di energia 100% rinnovabile, tracciabile e certificata.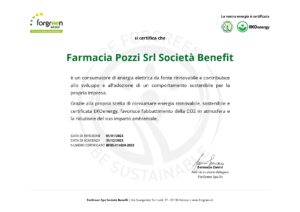 ForGreen è una comunità energetica, ma anche una società nata nel 2009 dall'idea di un gruppo di professionisti attivi nel settore delle energie rinnovabili e nello sviluppo di progetti di sostenibilità già a partire dal 1999. Fin dall'origine, la missione di ForGreen è stata quella di diffondere, sul mercato italiano, modelli energetici rivolti a imprese e persone, con l'obiettivo di favorire l'evoluzione da consumatore a prosumer.
Come riportato nel certificato, attraverso la decisione di utilizzare energia elettrica da fonte rinnovabile anche la Farmacia Pozzi contribuisce allo sviluppo e all'adozione di un comportamento sostenibile per la propria impresa, favorendo, allo stesso tempo, l'abbattimento della CO2 emessa in atmosfera e la riduzione del suo impatto ambientale.
Una scelta, dunque, che ben si sposa con gli obiettivi di perseguimento del beneficio comune, anche dal punto di vista energetico, caratterizzanti la nostra società benefit.